When it comes to planning a holiday, while we have favourite destinations, it's sometimes nice to branch out and try somewhere new. Especially if it means avoiding the dreaded holiday crowds! For a South Pacific holiday, destinations that often come to mind are Fiji, New Caledonia or Vanuatu: all of which are all beautiful, but also very popular. For those seeking an island holiday bursting with culture and relaxation, without the crowds, look no further than Norfolk Island. A lesser known South Pacific holiday destination.
What Is Norfolk Island?
Norfolk Island is a small island, that is a part of Australia's External Territory, just a two-hour flight off the East Coast. Norfolk Island is special because it plays an important role in Australia's settlement history. It was discovered by Captain Cook in 1774, on his second voyage on board the HMS Resolution. Captain Cook settled in Norfolk Island, and in 1786 the British government included the island as a settlement in their plan to colonise New South Wales. After this, there is a long list of settlements on the island; including the first fleet bringing a party of 15 convicts to Norfolk Island. Another is the second penal settlement, the settlement by Pitcairn Islanders and its progression into the 20th and 21st Centuries.
What can I Do On Norfolk Island?
Norfolk Island is one of those places that is perfect for those seeking relaxation, adventure or both. There is a wide range of different experiences available that are suitable for anyone, including water sports, nature tours, food tours, museums and more. Below is a list of some of our favourite Norfolk Island Holiday activities that cannot be missed!
Water Activities
It's almost impossible to go on an island holiday without enjoying the stunning turquoise waters, that are so unique to any island destination. At Norfolk Island, there is a range of different water activities you can get involved in, including kayak tours, a glass bottom boat cruise, fishing tours and of course, snorkelling. Believe it or not, Norfolk Island is also a truly underrated surfing destination, home to some of the best waves! Naturally, you must set aside some time to lounge on the soft sand and wade in the water at one of the island's beautiful beaches. Our favourite Norfolk Island beaches are Anson Bay, Emily Bay and Slaughter Bay.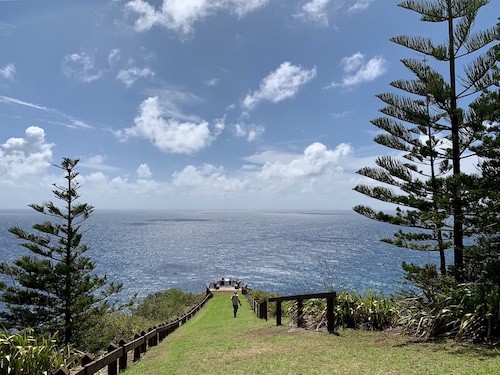 Land Adventures
While Norfolk Island might be known for its slow paced and relaxed nature, it is possible to fulfil your sense of adventure with some exciting activities. One of our favourites is the 'Island Adventures 4WD Tour,' which takes adventurers on a 4WD tour of the island's unexplored valleys, ridges, coastlines and private properties. The tour is complete with expert local commentary, so you won't miss out on any key insights. Another popular activity is to embark on one of the island's bushwalks, or the iconic Queen Victoria Garden Tour. Most Norfolk Island holiday package deals include this tour. On this tour, you can discover the stunning local flora and fauna, some of which is completely unique to the island.
History & Culture
As mentioned above, Norfolk Island has a rich and unique history, so, going on one of the island's history tours or visiting a museum is a must do before you leave. Some of the most popular historical and cultural attractions on the island are the Bounty Folk Museum, Fletcher's Mutiny Cyclorama, The Word Heritage Site in Kingston and visiting one of the island's many other museums.
Food And Drink
When travelling to any new destination, one of the most exciting parts is getting to sample the local produce and traditional cultural meals. Since Norfolk Island is part of Australia, their food is much the same. However, they make a sustained effort to only use local produce in their dishes, meaning everything is fresh and delicious. There is plenty of different restaurants to try on the island, but for the real foodies, we suggest embarking on a food tour. Some of our favourites are the Hilli Goat Cheese Tour, The Fish Fry, the Sweet Pea High Tea and the Picnic in Paradise.
No matter what you do, you will enjoy Norfolk Island. With no shortage of incredible food and drinks, amazing activities and relaxation opportunities, there truly is something for everybody there. Don't miss the lesser known of the incredible southern Pacific holiday destinations.