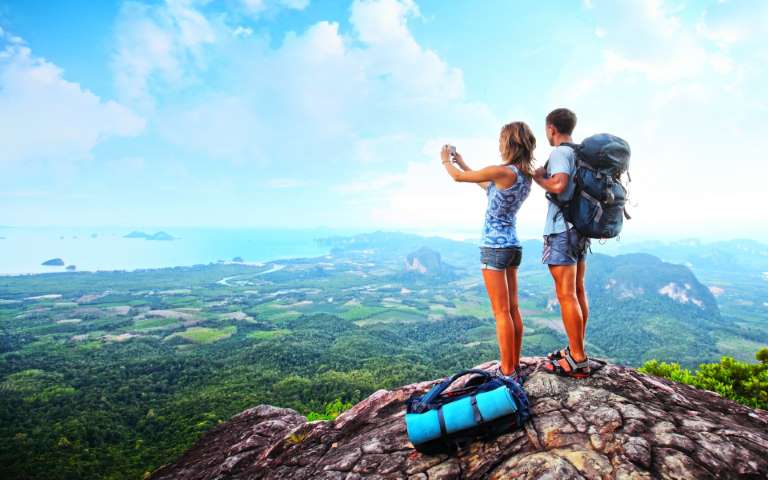 With over 230 million vaccines administered across the country, the end of the pandemic is drawing near in the United States. Due to this, many Americans are looking forward to traveling once again. While it may not happen immediately, this should not stop people from planning their trips once everything goes back to normal.
Planning is particularly true for adventure-seekers who have to make sure they have everything ready for their trip. If you are aiming to have your adrenaline fix on your future trips, here are some destinations you may want to consider.
Cycling Around Italy's Wine Country
When the pandemic started, Italy was one of the countries that saw a considerable number of infections. While it may take time for the European country to recover, it is a good place to visit for adventure-seekers. Cycling around the famed wine country of Italy is a unique experience for wine lovers.
You can cycle through Tuscany's hills and stopping over to take a sip of the world-renowned vineyards of the area. One event you can join once everything goes back to normal is the Tuscany Harvest Bike Tour of DuVine. The tour gives you the chance to learn about the area's culture while feasting on pecorino cheese, pici pasta, fava beans, truffles, and wild boar.
You can also savor wines from Sangiovese grape, including Vino Nobile and Chianti Classico. Another option is the are the Sangiovese hybrid. You can also opt for a cappuccino or an espresso if you're planning to stay sober during your trip.
Outdoor Adventure in Alaska
If you're looking for a trip to the north, you can opt to join an adventure vacation in Alaska. You can hike on a glacier, watch a brown bear snag a couple of salmons, or check out the Alaskan wilderness on a bush plane.
The rivers and lakes of the 49th state of the country. You can go kayaking, whitewater rafting, or snorkeling. Backcountry hiking is another option for intrepid travelers who want to explore the great outdoors of this northern state. You can also charter a boat to go on a fishing trip for the Pacific halibut.
The untouched wilderness of Alaska is an ideal destination for you if you are keen on ecotourism while looking to connect nature. Connecting with nature means you should help maintain its beauty by leaving no impact during your visit.
Touring the Baofeng Lake of Zhangjiajie National Forest Park
If you're keen on a relaxing vacation after all the anxious moments during the pandemic, you tour the Baofeng Lake of Zhangjiajie National Forest Park. Located in the southeastern part of the Zhangjiajie National Forest Park, the lake is surrounded by tree-covered mountains that can evoke a sense of tranquility and peace.
You can take a leisurely boat ride across the lake, which can take around 30 minutes. During the boat ride, you can practice your photography skills on the peaks and trees surrounding the lake. You can also go through the Thin Strip of Sky to see only a thin strip of the sky as you go through this narrow valley.
The Baofeng Waterfall or the Baofeng Lake Waterfall is another attraction you shouldn't miss on your trip to this part of the world. It comes from a manmade hole and descends into a stream before cascading along the hillside.
You can also visit other attractions close to the park, including the longest and highest glass-bottomed bridge globally, the Zhangjiajie Grand Canyon Glass Bridge. The largest karst cave in the country, Yellow Dragon Cave, is another place to visit where you can see huge caverns and underground streams.
Culinary Journey Through Japan
Aside from seeing the sights, one of the best reasons to visit Japan is to savor their culinary creations known around the world. You may want to go on this culinary journey. Aside from being delectable, Japanese food is also healthy and offers a lot of benefits.
Visiting Tokyo gives you several options when it comes to cuisine. You can explore the ramen scene of the capital, where you slurp bowls upon bowls of the noodle dish and learn how to make this famous dish from scratch.
Japan is also known for its innovative technology. So, you shouldn't let the opportunity to experience eating in a robot restaurant pass you by. You can also witness a robot cabaret show complete with laser lights and music while enjoying your favorite Japanese dishes.
With the end of the pandemic just over the horizon, it might be a good time to start planning that trip you were supposed to take before the health crisis threw a monkey wrench at your plans.