A visit to the amazing Kruger National Park is one of the top wildlife experiences in the world. Close to a million people visit the Kruger National Park annually – many of whom regard visiting the Kruger as a kind of 'spiritual pilgrimage' to heal mind, body and soul!
Where is the Kruger National Park?
The Kruger National Park lies in the Limpopo and the Mpumalanga provinces in northeastern South Africa. It covers more than 7,500 square miles, running 40 miles from east to west and an impressive 220 miles from south to north.
It is close to Eswatini and borders both the countries of Mozambique and Zimbabwe. If you were in any doubt, here are some compelling reasons to treat yourself to a Kruger National Park luxury safari!
Meet The Big Five Face-To-Face
And that's not just a turn of phrase! You will really be able to get very close to Africa's iconic 'Big Five' in the Kruger. The Park houses all Five – elephants, rhinos, buffaloes, lions, and about a thousand of those most beautiful of cats, leopards.
Experience The Magic Of The African Bush
Comprising nearly two million hectares of unspoilt African bush, the diversity of the Kruger's flora and fauna has to be seen to be believed!
The Kruger is home to:
147 mammal species
116 reptile species
500 bird species
34 amphibians
A staggering array of insects
49 fish species, including two of the rarest fish in the world, the lungfish and the mosquito-gobbling killifish
457 species of trees and shrubs
1,500 species of smaller plants
All of this makes up a natural world of surpassing richness that will delight and amaze you.
Meet Some Really Rare Animals
A Kruger National Park safari also offers you a chance to see some really unusual animals. These include African wild cats, honey badgers, oribis, wild dogs, bat-eared foxes and even sunis, the Kruger's tiniest antelope.
And that staggering array of insect species we told you about? It supports no fewer than an amazing 39 species of insectivorous bats alone!
Be Blown Away By The Birdlife
With well over 500 bird species (both migrant and resident) recorded in the Kruger, the Park offers riches galore for bird lovers. Here are just a few of the rare birds you might see:
Yellow-billed oxpeckers
Brown-headed parrots
Southern ground hornbill
Bateleur eagles
Tawny eagles
Verreaux's eagle-owls
Kori bustards
And that is apart from the plethora of other beautiful birds, like glossy starlings, blue waxbills, lilac-breasted rollers, barbets, kingfishers, and countless others.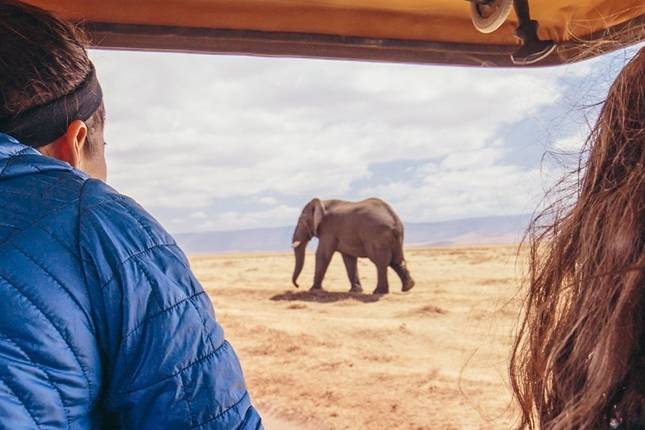 Enjoy Awesome Accommodation
The Kruger offers a wide variety of world-class accommodation that caters for all preferences, tastes, and pockets. The Park has 12 main rest camps, 5 smaller 'satellite' camps, and various lodges and bush camps.
Accommodation ranges from affordable camping-style locations, to luxurious lodges in the Kruger itself, as well as on private adjoining properties in the Greater Kruger.
So whether you're looking to really get back to nature, or prefer a more glamorous safari experience, you'll be spoilt for choice!
Beat The Winter Blues
You will revel in the warmth of the Kruger if you come from a freezing American or European winter! No danger of frost-bitten toes and fingers here, so bring plenty of light summer frocks, shorts, T-shirts and sandals.
However, the mornings and evenings can be a little nippy, so bring some warmer outer clothes, too. Night drives in particular can get chilly!
Customise Your Own Personal Adventure
With the wide range of activities on offer in the Kruger, you're sure to find several that suit you perfectly!
Just look at these:
Guided bush drives
Guided walks and guided walking safaris
Sunset safaris
Mountain biking
Eco trails
Back-packing
4×4 adventures
Plenty of supervised activities for your kids
And rest assured, whatever your adventure in the bush, skilled, experienced and professional guides will keep you safe while they share some of the mysteries of the bush with you.
Relax In Style And Blissful Comfort
Or, if you prefer, you can just relax in the healing calm of the bush. Relaxed game drives, some with indulgent sundowners included, are on offer. So are a game of golf, a quiet spot of bird watching or listening to an interesting lecture. You can even treat yourself to a luxury spa visit to refresh body and soul!
There are dozens of reasons a Kruger National Park safari is such a sought-after experience. But nothing beats experiencing it for yourself!