Tulum is the ideal retreat, known for its tranquilly, stunning white-sand beaches, gourmet cuisine, and a certain something special in the air. For decades, visitors have been drawn to this ancient fishing village by the city's magnificent Mayan ruins, which overlook the pristine waters of the turquoise Caribbean. In this treasure of the Mexican Riviera, cultural authenticity, spiritual connection, and immersion in nature continue to shine. la valise tulum has a beautiful easy going barefoot ambiance, nestled between lush jungle and a pearl-white beach. While the calm beach environment and quiet relaxation are appealing, it's the attention to detail that distinguishes this holiday location from the time you walk through the door and throughout your stay. Stepping into the seashore living room seems like reuniting with an educated old friend who has adopted the gypsy lifestyle. Bamboo chairs, wicker-nest chandeliers, and a smattering of Diego Rivera art books lend the throne a rustic Mexican vibe.
Rooms
Rooms are meant to be flung wide to the early morning sun and left open till late at night to enjoy the starry sky. The cream walls and bleached-wood furniture blend perfectly with the surroundings, paying respect to the neighboring forest. Warmth and whimsy come in the form of woven reed lamps and tropical wood wall adornments, which look more like sculptures than accents and include everything from a cockatoo perched on a lamp to a jaguar-shaped armchair.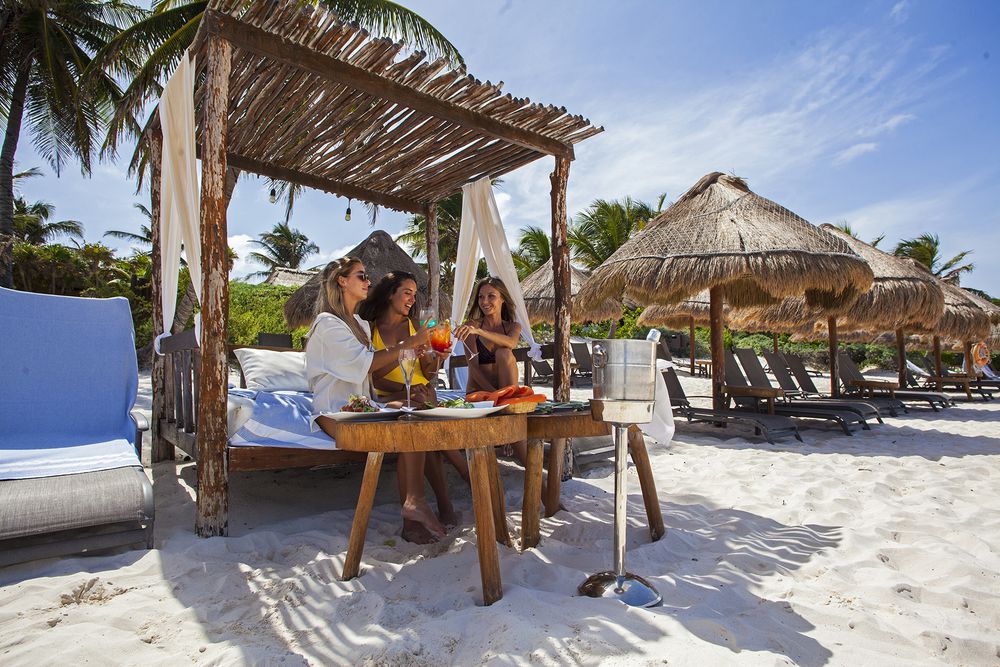 Sustainability
Sustainability is at the forefront of the La Valise experience, out of gratitude and respect for their bio-diverse surroundings. Single-use plastic is banned, waste is composted, recycling is promoted, and meal ingredients are acquired locally. Toiletries and insect repellant are environmentally friendly, and sunscreen is reef safe. The resort urges guests to sign the Tulum Pledge, a promise to leave Tulum in better shape than they found it, as a display of devotion to their environmentally aware position.
Food
Breakfast is a magnificent affair that could appease a Mayan god, and it can be provided in-room. Tropical fruit platters, homemade jams, yogurts, and cereals are just a few of the appetizers. For dinner, go to Nü, which reflects a culinary journey from Mexico City to Tulum by seven friends and chefs. The crew uses local and sustainable products to create modern Mexican food, which is inspired by their forest and ocean environment. Alternatively, go to ITZIK if you're in the mood to share. ITZIK emits a colorful boho vibe surrounded by woven palm fronds, with groovy jungle beats and live music sessions. Delectable dishes are created by combining bold Middle Eastern flavors with sustainable products from the Mayan Jungle and the Caribbean Sea.