Turkey is a country with profound cultural depths and historical significance. Such is its charm that it entices millions of tourists from all corners of the world every year. If you love to look at ancient architecture and learn about the past, Turkey is the place for you. Here are some of the interesting facts about the historical places to visit in Turkey after the COVID Scare globally. To welcome tourist's, Turkey have also relaxed its tourist visa norms and it can be easily procured using a expert Turkey visa consultant
Ancient Cities In Turkey And Places With Historical Significance:
Ephesus- Established in the early 10th century, Ephesus flourished during the glorious Roman Civilization. It used to serve as a commercial centre and a seaport. The souvenir shops in the vicinity have plenty of handmade articles.
Antalya Museum-Antalya Museum is among the most prominent museums in Turkey, with a magnificent, open-air gallery and 13 halls. Here you'll come to know about the lifestyle of people living in the Pamphylia and Mediterranean regions. Moreover, Antalya Museum is not the only popular historic location in Antalya. You'll get the opportunity to witness many more.
Alanya Castle- Is your stay in Turkey limited and you do not have time to visit all the beautiful places? In that case, Alanya Castle has to be in your list. Tiny shops surround the castle. You'll find beautifully handcrafted lamps, rare and homemade knitted items.
Aizanoi- Aizanoi, one of the majestic places to visit in Turkey,is a city with priceless relics. This Roman city has its unique charm. If you are in Aizanoi, don't forget to pay homage to the Zeus Temple.
Aphrodisias- Aphrodisias was named after the Goddess of Love. It is one of the most romantic places in the world. There are museums, ruins, and picture-perfect venues. You cannot afford to miss clicking some fantastic photos in this ancient town. The best season to visit this place is summer as the winters are harsh.
The Blue Mosque- The Blue Mosque is among the most photogenic creations of Turkish people. It is a social complex featuring a mosque, a mansion, a fountain, a madrasa, a hospital, a Turkish bath, homes, and rental rooms. No wonder it is crowded with tourists all the time.
Anzac Cove- This one is the youngest historic destination in Turkey in terms of its year of establishment. Nevertheless, it is a place of great significance as it has served as a World I site.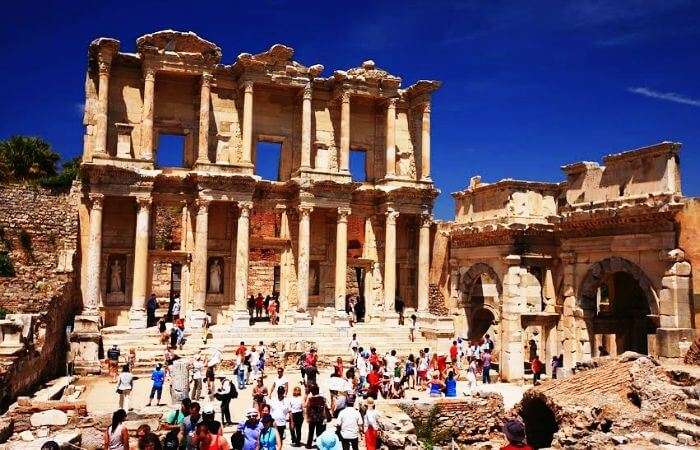 Topkapi Palace- Topkapi Palace is among the 

places to visit in Turkey

 that pleases all romantic couples, architect enthusiasts, simple tourists, and pilgrims. The sprawling gardens and the exotic buildings will remain forever in your memory. Make sure you have a guide book or hire a guide to soak in the rich historical fervour of the place.
Conclusion:
It is not just the old ruins that make Turkey a favourite vacation retreat. The country's wide diversity of delicious food, gorgeous beaches, ancient ruins, amiable people and exciting nightlife has something to offer every traveller.
It is truly a paradise for travel lovers.